Thanks to the span of 150 kg per leaf, theSW 130 S sliding system is the ideal solution for the realization of large glass surfaces that increase the value of the architectural style of their location.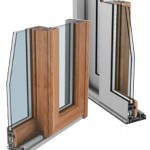 MEDIUM SLIDING WITH FLAP OF 150 KG SPAN. Sliding system for parallel sliding doors manufacturing with 2 or more leafs, for windows and doors of medium dimensions.
FIXED FRAME
with a section of 125.6 mm, and 58.1 mm for the opening.
ALUMINIUM
Primary alloy 6060.
TYPES OF WOOD
Cherry, Maple and Hardwood Oak, Rough ramin.